Sizes: 5×5 and 5×7
Bold bouquets in bright cheerful colors.
Also available as singles. See similar designs below.
Stitch count: 18,988 – 38,379
Artwork from Clipart from https://diddybag.com/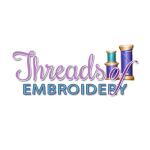 Threads of Embroidery
In memory of our beautiful mother Annie Liebenberg, we will continue with Threads of Embroidery to remember her amazing work and what she has taught us over the years. My mother shared her gifts with us and with so many other people. She was a true blessing too so many people. We are honoured and eternally grateful that we are able to continue her work.