Grandmas and mothers – this is an ideal gift for children and is fun to make.
Full instructions included – how to sew the peekaboo pieces, how to make the box with lid and how to make the string bag.
Peekaboo pieces fit a 4×4 hoop, the rest are mixed sizes between 4×4 and 5×7.
Game Instructions:
Memory is a classic children's game that challenges children to memorize the locations of cards set out in a grid, with the goal of pairing together cards with the same image.
All the animal cards are laid out in a grid face down, and children take turns flipping pairs of cards over. On each turn, the player will first turn one animal over, then a second. If the two animals match, the child gets to keep the pair and can have another turn until he/she fails to get more matching animals.
The object is to match the most pairs of animals. When cards are turned over, it is important to remember where they are. The winner is the one with the most matching pieces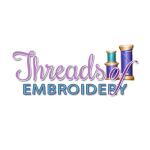 Threads of Embroidery
In memory of our beautiful mother Annie Liebenberg, we will continue with Threads of Embroidery to remember her amazing work and what she has taught us over the years. My mother shared her gifts with us and with so many other people. She was a true blessing too so many people. We are honoured and eternally grateful that we are able to continue her work.