Rabbit Tea Party Set 2
Size: 5×7 – one design in 2 sizes.
John Tenniel was honored for his artistic achievements in 1893. He is remembered especially as the principal political cartoonist for Punch magazine for over 50 years, and for his illustrations to Lewis Carroll's Alice's Adventures in Wonderland (1865) and Through the Looking-Glass, and What Alice Found There (1871). I discovered 24 of his original drawings and it took me several months to digitize – finally done with them and very proud to share it with everybody.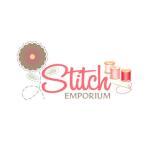 Brand
Stitch Emporium