Adorable baby designs with a high stitch count due to the detail but it stitch out beautiful. Colour chart is just an indication of the colours and you need to hoop your fabric with your stabilizer and insert another layer underneath as well to insure a perfect stitch-out.
Click here to download or view product specs:
TOE058A_BABY_BOO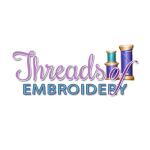 Threads of Embroidery
In memory of our beautiful mother Annie Liebenberg, we will continue with Threads of Embroidery to remember her amazing work and what she has taught us over the years. My mother shared her gifts with us and with so many other people. She was a true blessing too so many people. We are honoured and eternally grateful that we are able to continue her work.