We delight in the beauty of the butterfly, but rarely admit the changes it has gone through to achieve that beauty – Maya Angelou
A stunning  butterfly sketch Embroidery Design.
The design fits a 4×4 hoop.
Make a statement by adding a design to a T-shirt or Tote Bag …. the choices are endless.
Or Create an Artwork using all 6 of the "The Wings of A Butterfly Sketch" designs which are available as a collection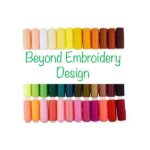 Description
Butterfly sketch 4×4 Embroidery Design